Top Ten True Crime Podcasts You Need in Your Life!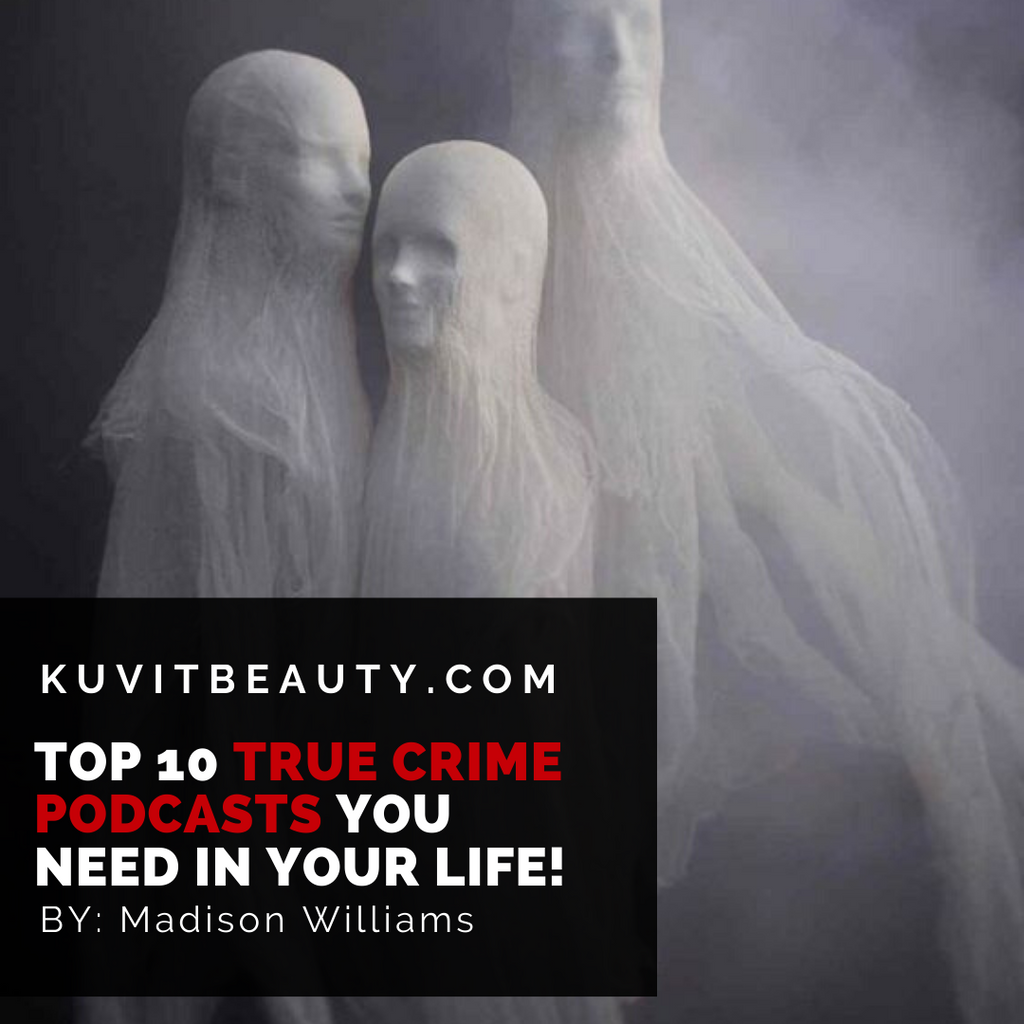 Top Ten True Crime Podcasts You Need in Your Life! 
          It seems like in the past couple of years, everyone has been bitten by the true-crime bug. With the rise in podcast popularity, so many new stories are being told while older stories are finally getting their time in the sun. When there are so many different options, it can be hard to find that quality true-crime podcast that fits you. Whether you enjoy episodic style podcasts or a series style podcast I guarantee there is an option for you below. This list is a compilation of true crime podcasts that I have stumbled upon myself or they have been recommended to me. I have listened to each one of these and love them all for different reasons, so if you're interested keep scrolling!
(This list is in no particular order. I have also attached either a youtube video of the trailer for each podcast or the first episode of each podcast so you can check them out further!)
Root Of Evil: 
           This Podcast was originally recommended to me by my mother. She typically isn't a fan of true crime like I am but she was pushing for both my sister and me to listen to this super hard, so I had to take a listen.  "Root of Evil" is a series style podcast that focuses on the Hodel family. The patriarch George Hodel was a physician in Los Angeles in the 1940s and was a prime suspect in the most well known unsolved case, the Black Dhalia murder. Though the murder remains officially unsolved, it is unofficially understood that George Hodel likely was the killer. After listening to this podcast you will understand why due to the generational terrors and traumas he caused his entire family.
Bear Brook: 
            "Bear Brook" is a true-crime podcast that I revisit often. The chilling story combined with the mystery behind the murders makes you feel like you're riding a roller coaster in the dark. This podcast starts in Bear Brook national park in New Hampshire where four unidentified bodies are found in two large barrels in the woods. The story itself crisscrosses the country and finally ends right where it started. This series style podcast discusses some of the newest ways authorities are attempting to solve violent crimes and how these new technologies helped bring a tad bit of clarity to this thirty-year-old mystery. Bear Brooke will take you places you never thought were even related to the original case, which is why I love it. 
Gladiator:
               "Gladiator", the Aaron Hernadez story was not one I was particularly interested in, but because my mom recommended it I had to give it a chance. I was shocked by how detailed and emotional this entire story was especially since I have no real interest in football culture. I had been marginally aware of this story while it was unfolding in real-time but the details uncovered in this series shed new light on the short life of Aaron Hernandez. We learn how his early traumas, possible CTE, mental illness, passion for football, and alleged closeted sexuality boiled just below the surface. These things all contributed to his massive fall from grace. The subsequent murder conviction led him to take his own life while he awaited final sentencing. This podcast was an unexpected hit, "Gladiator" is the perfect case study on how money and success do not always bring happiness and ease to your life. 
Man in the Window:
                "Man in the Window" is the only True Crime podcast that made me feel like I was being watched. This series tells the long terrifying story of the Visalia Ransacker, East Area Rapist, East Bay Rapist, the Original Night Stalker, the Diamond Knot Killer, and finally known more widely as the Golden State Killer. My best friend Jenna recommended this one to me and we both were listening to it together, it was horrifying. This is an episodic style podcast, so each new piece of the puzzle came out weekly, and each addition to the story was more chilling than the last. His crimes spree lasted decades, spread across nearly the entire state of California, and slowly intensified over time. The podcast "Man in the Window" also asks hard-hitting questions like, why did it take so long for police to catch him? Who was he targeting? And most importantly, how can we make sure this never happens again?
Happy Face:
                   Have you ever considered how little you know about certain family members? Does your family have any dark secrets that no one likes to talk about? Now imagine being Melissa Moore, a high schooler in 1995 who finds out her father Keith Hunter Jesperson was one of the most prolific serial killers of all time. The "Happy Face" podcast is the story of Keith Hunter Jesperson, his brutal crimes, and the cat and mouse game he played with detectives and the media. But it's also the story of the horrific legacy he gifted his children. Through this series we follow Melissa Moore, now a grown woman, uncover her father's brutal crimes and reckon with the guilt she has as a result of what her father did. 
Dr. Death: 
               If you are squeamish particularly about surgical conversations, this podcast is not for you! I'm not particularly sensitive to that type of content, but as I listened to the first episode on my way home from work I was screaming in my car, so do with that what you will. "Dr.Death," tells the story of Christopher Duntsch a Texas surgeon convicted of gross malpractice. Thirty-one of his patients were left seriously injured and two, unfortunately, died during his procedures. This is one of the most unbelievable true crime stories I've ever encountered, and it will make you even more scared to go on the operating table. 
My Favorite Murder: 
                 "My Favorite Murder" with Karen Kilgariff and Georgia Hardstark is my constant! This episodic true-crime podcast was recommended to me by my best friend Taylor White and I did not think I would like it at first. Taylor does not like anything remotely scary so I didn't think this podcast would scratch my itch for chilling true crime stories, but I was wrong. These two women, who literally become best friends doing this show together, use their humor to discuss some of the craziest most obscure true crime stories that have ever happened. Each episode has two new murders that Karen and Georgia tell each other, while we listen, a simple yet incredibly effective format. If you are not really ready to jump headfirst into true crime, "My Favorite Murder" is the perfect podcast to start with! 
Monster: 
               This podcast is absolutely terrifying. The "Atlanta Monster" podcast series details the horrifying disappearances and murders of over 25 black children all perpetrated by one man named Wayne Williams, or so they want you to think. This serial killer's spree lasted from 1979-1981 and had an entire city in complete chaos and fear. There is still a lot of questions regarding his involvement with the murders, many of the victim's families do not agree that he is responsible. This podcast takes a lot of unexpected twists and will have you even more confused than when you started. This is one of the very few true crime stories that center around a marginalized community and the racial tensions run incredibly deep within this story. 
Criminal:
                  "Criminal" is another episodic style podcast that is a bit easier to digest. Instead of purely focusing on the grizzly details of each violent crime they take a different approach. They take each crime as a starting point, like a case study, then proceed to question the motivations, cultural workings, and deep undercurrents within each case. "Criminal" discusses these crimes with great respect and detail giving us a new perspective on the deeper themes of these crimes. 
Serial: 
                  "Serial" is the godfather to all of these true-crime podcasts that I've listed before. This was one of the first podcasts that I have ever listened to, and it was gripping. The first season was released in 2014 and no one could stop talking about it. It details the story of the disappearance and murder of high schooler Hae Min Lee in 1999. Her secret boyfriend, Adnan Syed was sent to jail for the crime. He is Muslim and she was Asain, and their immigrant parents disapproved of their relationship. So when she went missing, he was instantly the main suspect. His family still rallies behind his innocence and holds gatherings on his behave to this day. The host and reporter Sarah Koeing interviews everyone involved in this story, even Adnan Syed is interviewed from prison. He claims he has been wrongfully convicted, but can't exactly prove it. This series style podcast set the standard for some of your favorite true crime podcasts, it will leave you even more confused than when you started it. 
I love the true crime genre because it shows the murky underbelly of human nature. In many cases, it gives a voice to the voiceless while educating us on things to watch out for in our own lives. Though as a life long true crimer, I appreciate this new renaissance in the genre, I hope to see more representation of stories that center around marginalized communities. Too often are our stories overshadowed in the media,  not handled properly during the investigation, or are never told. The lives of marginalized people matter too, and as the popularity grows for the genre, I hope to see more inclusivity in the stories that are told.  Please feel free to comment on this blog post with your favorite True Crime podcasts and share this with a friend!